The AUTOMATICALLY RETRACTABLE phone clip keeps your phone secure and prevents it from falling out while driving, even on bumpy roads. It's easy to insert and remove your phone with just one hand.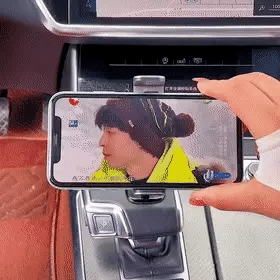 Key features
【High quality aviation aluminum alloy】
The car mobile phone holder is made of aviation aluminum alloy, ABS polishing process is adopted to highlight the high quality sandblasting texture.At the same time, it is a car phone holder with safety protection design, without phone case, it will not damage or scratch your phone.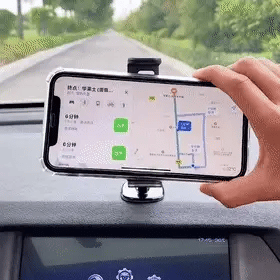 【Mini Car Phone Holder】
Small but powerful, it does not block the air outlet.As a phone car accessory, it is integrated into your car.The holder can rotate 360°,support for horizontal and vertical screens, and one-handed operation. Put your mobile phone at the perfect angle and enjoy a more relaxed and safer driving experience.
【Power Auto Clamping, more stable, quieter】
Our phone car holder has the automatic locking design of intelligent electric clamping arm,Electric opening and closing. High-density silicone rubber is added to the clamping arm, which has excellent elasticity. It can clamp the mobile phone without falling and scratching the mobile phone. It is stable, won't fall and won't shake, no matter the traffic conditions, the phone won't shake, which makes it quieter.
【Charge for half an hour, use for a month】
This car phone holder has a built-in long-lasting 200 mAh battery and can run for a month without charging wires. So you can disconnect the charging wires and charge the phone. When the battery is depleted, plug in the charging lead and the car phone holder will work immediately. It only takes half an hour to fully charge the battery.
【Universal compatibility】
This car phone holder has an electric telescopic arm that holds all phones(4.0-6.9 inch) and case combinations firmly, even with thick shell. The unique clip design can be used for a long time, the clamping force will not be weakened,At the same time, we provide an extra strong suction cup with a super sticky gel pad.It is easy to stick firmly to the dashboard or most flat surfaces to fit all types of cars.
Specifications
Materials:Aviation aluminium alloy+ABS
Product weight:165G
Product size:(L x W x H)7.7/9.8 × 3.2 CM
Package contents
Electric mobile phone holder × 1
Glue × 1
USB × 1
Suction clip × 1